Consider adding a fractional Chief Information Officer to your team if your small to mid-sized business or organization is looking to take your Information Technology capabilities to the next level.  A fractional CIO can provide the same strategic advice, planning, and guidance a full-time CIO would, but at a fraction of the cost.
By leveraging the expertise of an fCIO, you can maximize the return on your IT investments, grow your organization's technology capabilities, and reduce business risk.  With a fractional CIO at the helm, you can create a more agile and innovative IT infrastructure to maximize your ability to compete in today's ever-changing marketplace.  Let's examine some ways a fractional CIO could benefit your organization.
What is a Fractional CIO?
A fractional CIO (Chief Information Officer) is a consultant or senior executive who provides an organization with strategic leadership, expertise, and experience on a part-time basis in the fast-changing area of digital transformation, technology strategy, industry standards & best practices, or even technology-related regulatory risk mitigation.  A Fractional CIO often works for an organization on a short-term or project basis to help deliver specific goals around technology initiatives.  These goals are often centered around technology choices, resource planning, cybersecurity, and innovative IT strategies.
The fCIO works for a fraction of the time and expense of employing a full-time executive for this job, augmenting the executive leadership team without the higher compensation and benefit costs.  You get the capabilities and expertise that come with a C-Suite leader without the additional cost of a high-level executive.
Fractional CIOs bring with them proven expertise with years of experience and insights into various technologies and strategies.  An fCIO can provide a variety of perspectives and greater experience to enable your organization to make informed decisions.  The fractional CIO can also help your business minimize the risks associated with technology investment – enabling you to make decisions with greater assurance and speed.
What Does a Fractional CIO Do?
We compiled this non-exhaustive list of several ways a Fractional CIO may be able to help your organization.  We will also explore some scenarios which may help you consider whether a fractional CIO is right for your business.
Analyze current IT strategy and systems to create an IT roadmap to align with evolving business objectives
Evaluate and recommend industry-standard, performance-driven technology solutions
Develop information systems and security policies & procedures conforming to international or regulatory standards and mitigating business risks
Identify, assess, and manage IT risks and vulnerabilities
Establish IT budgets and efficiently manage spend
Negotiate, manage, and monitor contracts and vendors
Communicate and consult with other stakeholders on all administrative and strategic technology-enabled initiatives, including cloud migration and digital transformation
Create and monitor IT service levels and key performance metrics
Transform the IT infrastructure to ensure scalability and reliability
Research and identify emerging technologies and associated trends and recommend new solutions that advance business objectives
Strategize avenues for revenue growth and scaling digital operations
Scenarios
New Business with Limited Budget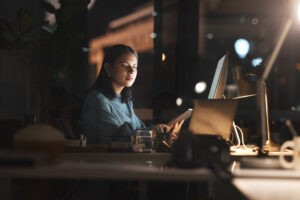 A start-up business has launched with no budget for a full-time CIO, but they need someone to help with technology strategy and planning, system operations, security and more.
The business owner decides to use a Fractional CIO who provides consulting and IT support on a part-time, project basis.  With her help, the business is able to plan a technology roadmap, implement system operations, and monitor security risks. This cost-effective solution allows the business to take advantage of executive IT leadership without breaking the bank.
IT Resources at Capacity
An organization's primary technology leadership resource is a CIO who is at capacity with existing operations, but the organization needs to roll out a new project involving upgrades to its current systems.  The project has strategic importance and needs to be done quickly, but the CIO does not have the bandwidth to manage this effort.  So, the organization hires a fractional CIO to manage the special project; he has the skills and experience to give the project the attention it needs to execute accurately and on time.  The fCIO works in collaboration with the existing CIO to ensure the success of the project while leaving the CIO able to focus on managing everyday operations.
Vendor Relationship Management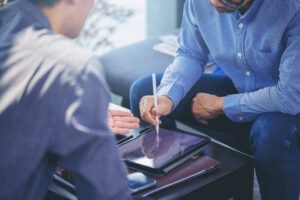 The CEO of a small company has tasked her team with reducing operational costs, while concurrently improving productivity.  To do this, she has decided to use a fractional CIO to manage her vendor relations.
The fractional CIO has extensive experience in evaluating vendor contracts and improving service delivery.  He begins by thoroughly evaluating the current vendor contracts, processes, and relationships.  He then presents a plan to improve vendor relations, with an emphasis on cost reductions without sacrificing quality.
The fCIO works closely with the company's purchasing and operations teams to review each vendor's service offering and delivery method.  He then negotiates contract terms that are more favorable to the business.  He also recommends changes to their delivery models and suggests alternative services, which ultimately improve efficiency and productivity.
Scaling Up
A mid-size business wants to scale up rapidly in the next couple of years but does not have the resources to invest in a full-time CIO.  The business decides to hire a fractional CIO to develop and implement a business strategy to reach the desired growth.
The fractional CIO will assess current operations to identify areas of potential improvement.  She will then use this assessment to help the organization develop a comprehensive business strategy and plan of action that outlines what it wants to accomplish and how it will reach its goals.
Additionally, the fCIO will help create short-term and long-term action plans to effectively manage the scaling-up process.  She will also oversee IT operations, and coordinate resources, personnel, and operations to ensure procedures are being followed and expectations are being met.  Finally, she will provide detailed progress reports to the executive team and facilitate any course corrections and adjust the strategy as needed.
Fractional CIO as Interim Leadership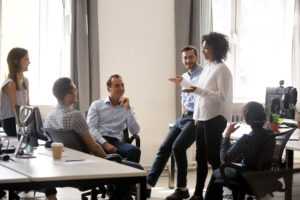 An organization has been working on a series of IT transformation projects that are critical to the business.  The current CIO is leaving with short notice and the organization needs to quickly find a replacement with the right skillset and experience to facilitate these projects.  The CEO can hire a fractional CIO on an interim basis that understands the significance of this transformation and its urgency.
In this case, the fCIO will act as the interim leader to ensure continuity in the strategic execution of this project.  This temporary position will help the organization remain focused on its IT objectives until a permanent CIO is hired.
Conclusion
Hiring a fractional CIO is an excellent solution for any business looking to optimize their IT organization without the extra expense of a full-time, dedicated CIO.  A Fractional CIO can help a company develop strategies to become more efficient, assist with necessary vendor and technology decisions, and bring expert knowledge to the table that otherwise would not be available.  This can result in cost savings, improved performance, and a heightened competitive edge for companies looking for a cost-effective solution for their IT functions.
Would a fractional CIO be right for your business?  Schedule a complimentary conversation, and let's talk!